News article category
Project
GEO-Instruments teams are on-site with colleagues from Keller installing ground anchors to strengthen a retaining wall next to other ongoing works as part of a major London project.
Keller are installing more than 500 ground anchors with GEO-Instruments on-hand throughout, providing position and alignment information for the process.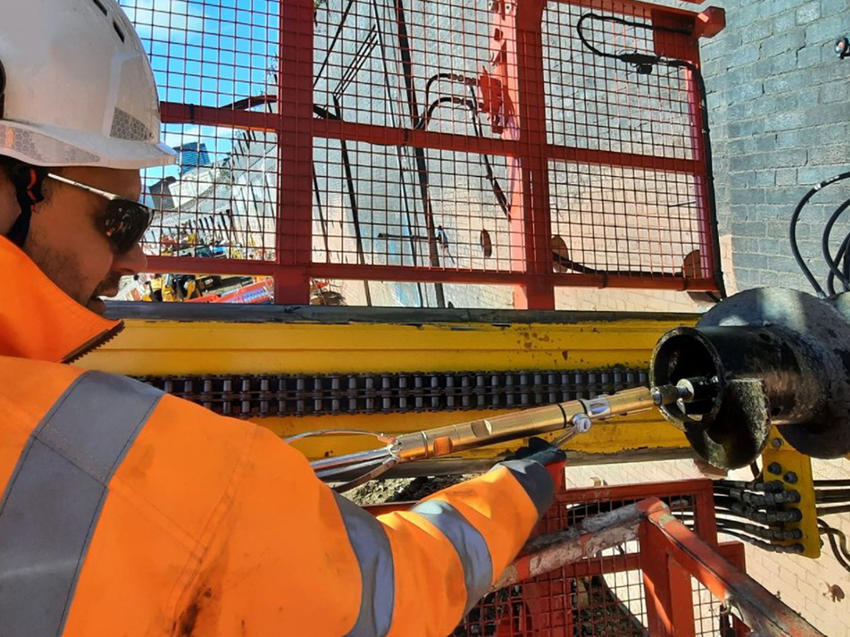 The ground anchors will be installed above ground-level into the existing retaining wall. The installation will be non-continuous and staged intermittently over the period of works.
Teams from GEO-Instruments are supporting Keller at several stages of the project, including:
Topographical survey of the retaining wall, feeding back key site information to the design team to assist with construction

Producing CAD drawings and reports

Setting out positions for core samples taken from the wall

Checking alignment for core cutting equipment

Setting out and rig alignment, azimuth and inclination for borehole drilling

Producing As-Built reports for completed boreholes using a DeviGyro to survey each hole for depth and deviation
Trials and surveys were undertaken by the Keller and GEO earlier in the year to inform the design of the anchor positions.
Laszlo Gracza is GEO-Instruments' lead engineer on the project and has years of experience in setting-out and surveying on civil engineering projects.
"No matter how brilliant your mind or strategy is, if you're playing a solo game, you'll always lose out to a team. I'm happy to be part of a great project with the Keller team, where people work as a whole and appreciate each other's work,"  he said.
GEO-I teams are using the latest Robotic Total Stations and Devico borehole surveying equipment to conduct daily surveys responding to the evolving requirements of the works.
Find out more about our manual monitoring services here.
"It's been rewarding to work in a team with Keller using complex kit to tackle to the job's needs together, said Reggie Harrison, GEO-Instruments Monitoring Engineer.
As part of Keller, both divisions are able to communicate and co-operate as efficiently as possible, delivering the project safely and professionally.