News article category
Workplace and people
As part of our dedicated Setting Out team, Nilu plays a key role in precisely interpreting design drawings and advising drilling teams carrying out piling and geotechnical works. She works closely with client supervisors and engineers, ensuring what is built meets the expected quality and specification.
Having joined GEO-Instruments as a Setting Out Engineer during a period of rapid growth, Nilu has been exceptionally busy these last few months.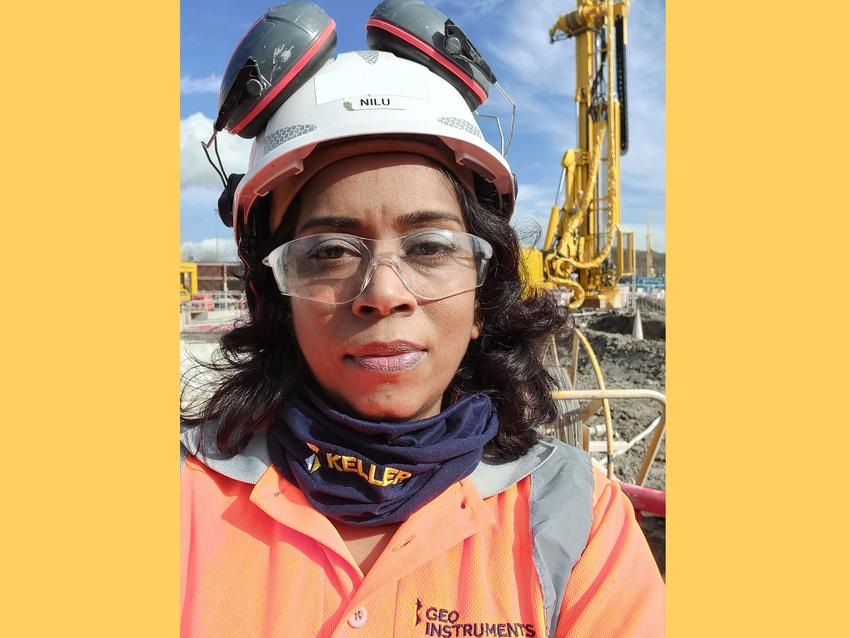 We asked Nilu a few questions to learn more about her time in GEO-Instruments so far, experiences in the industry as a whole and a bit about her life outside of work.
Describe your typical day.
I am responsible for overseeing various tasks on site, prioritising the most urgent work that day and going through daily updates with my team. I have to communicate with all the parts of the site team, engineers and supervisors to ensure production information and plans are up-to date. Planning ahead is important to keep the project running smoothly. 
Tell us a bit about your previous experience in the industry.
I worked as a Junior Surveyor for five and half years. In a male dominated industry it could be tough to be in "man's role" but I had a great support and encouragement from my managers to grow my unique talents to deal with tough jobs and clients. 
How did you get into engineering?
My fascination to get into engineering stems from building our own family home when I was 10 years old. I learned about the importance of good design and planning by having to interpret the designs to determine how many bricks would be needed. During its construction I noticed how important it was to build accurately, particularly at the corners of the building which supported most of the weight of the roof. 
I was fascinated with the process of how designs and concepts become a reality. I have been interested in civil engineering ever since.
What do you like most about the job? 
I like my job because everyone shares the same vision and is dedicated to the completing the task. It creates a family environment where everybody is there for each other.
What are you looking forward to or working towards in the future?
With all of the skills and experience that I currently have in construction, I aspire to learn more about the company's operation and work more closely to managing team in a deeper way. 
Additionally, I plan to continue gaining new skills sets that are applicable to future career opportunities. My main aim is to become a Chartered Civil Engineer.  
How do you like to spend your time when not at work?
Almost all of my free time is given to my husband and four young girls. It really is inexplicably relieving and magical to hear my girls laugh and play after a long day.