News article category
Project
GEO engineers had a chilly but picturesque start to the year with a new automated monitoring job on the remote Shetland Islands.
This marks a great first opportunity to work on a Wind Farm project and GEO-Instruments' most northerly UK project to date.
 "A fantastic and intriguing project to be a part of, always fun and challenging to be involved on sites with remote and variable conditions." – Rob Orr, Geostructural Installation Engineer.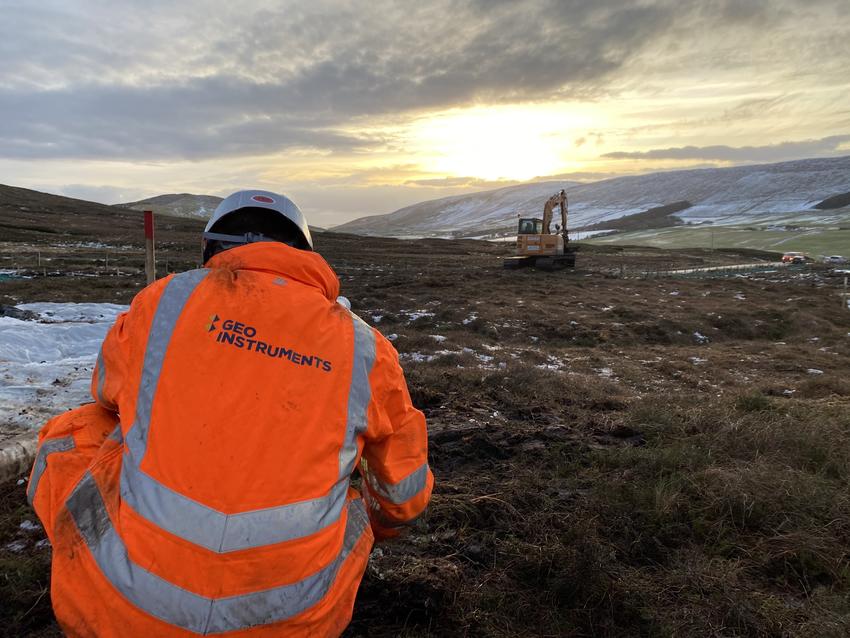 Early January saw GEO engineers take the short flight from Aberdeen and head to site at the new Viking Energy Wind Farm on the central Mainland of Shetland.  An array of piezometers were  installed to measure pore pressure in the peat beneath the site during construction.
Contributing towards government and global schemes to reduce CO2 emissions and increase the usage of renewable energy, the wind farm will consist of 103 wind turbines and produce enough power for 475,000 homes. Excess power not needed by local infrastructure can be supplied to the mainland via a new high-voltage cable being laid  to connect Shetland to the UK power grid.
Working with principal contractor RJ McLeod a system of 10 Vibrating Wire Piezometers and 24 settlement plates was designed for installation along the course of a new dual carriageway being constructed for the project.
The data from the piezos is collected automatically and sent via wireless nodes to a shared gateway where it is sent and uploaded to GEO's web-based software QuickView. The instrumentation and data collection will run autonomously for 3 years using solar power with a deep cycle back-up battery. It's possible to remotely access the gateway to change data frequency and track battery voltages. The settlement plate measurements will be taken manually by site operatives.
After completion of the wind farm the road will be given to the local council for use by the public.
Conditions on site were challenging. Engineers had to contend with bitter cold, heavy winds, a relatively rare instance of snowfall and short daylight hours to install the instrumentation in less than a week.
However, the exciting project and stunning views were worth the hard work.
To learn more about our geotechnical and in-ground instrumentation please click here.