News article category
Project
GEO-Instruments have successfully completed a high intensity, short-term slope monitoring scheme on a section of a main road near Bath, Somerset.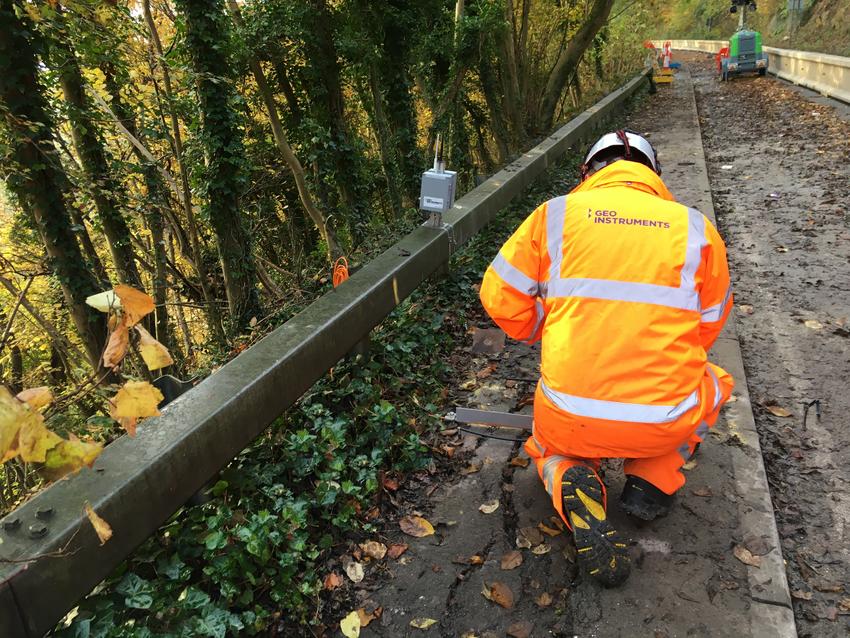 Engineers completed installation, commissioning, 24-hour high frequency monitoring and then decommissioning under strict time constraints.
After cracks appeared in the pavement alongside the road in an area that is historically susceptible to landslips, Arcadis were contracted by National Highways to perform site investigation.
Core samples needed to be taken from the road and the slope below to determine the ground conditions and the cause of the failure.
For the duration of the investigation one lane of the road was closed under temporary traffic lights to accommodate plant and machinery.
Multiple positions were chosen for drilling along the 200m stretch where cracking was observed.
In order to take core samples from the slope, three cantilever scaffolding platforms were constructed to support the rotary core drilling rigs over the barrier at the crest of the slope.
The high-frequency monitoring system was designed to have semi-continuous automated spot readings to ensure the safety of teams working on the platforms.
A detailed system of high accuracy crack meters and wireless tiltmeters was designed to monitor changes in the pavement and the slope.
At the pavement level, a combination of a biaxial tiltmeter mounted on a beam and a crack meter were installed at six stations along the site. This composite solution gave a thorough measurement of any potential slope movement in multiple dimensions, either through creeping or in an unlikely catastrophic event.
On the slope below the road, seven tiltmeters were installed on stakes at varying distances down the wooded slope and in-line of each cantilever platform. These were installed by a specialist abseiling subcontractor, and provided means of monitoring potential larger scale ground movements.
The critical nature of the works required swift site-specific design, fast mobilisation to site and an efficient installation with the valuable cooperation of Arcadis, the Principal Contractor.
The monitoring regime was set on a five-minute frequency for 24/7 with an alerting system including immediate notifications of potential trigger breaches and data outages via SMS and emails. The data visualisation and reporting system was managed through GEO-instruments' QuickView monitoring software with access enabled to all relevant parties, including National Highways, the client, Kier, the designers and Arcadis.
The interesting project was successfully completed after three weeks of high-intensity monitoring with no outages in data or reporting despite the local poor network coverage.
If you would like to know more about our other monitoring projects on Highways and other markets click here.