News article category
Project
The first London Power Tunnels TBM has completed the project's first drive between two sites in South London after an 11-month journey monitored by GEO-Instruments.
The Tunnel Boring Machine broke through at Eltham on 21 June  after travelling 6.7km from a site at Hurst at depths of up to 50 metres.
In May 2021, GEO-instruments were awarded the contract by HOCHTIEF-MURPHY Joint Venture (HMJV) for the monitoring package on the LPT project, which includes the surface and third party asset monitoring for the five TBM drives.
The first of those TBMs (named Christine after STEM champion Christine Townley) has steadily made its way from the eastern Hurst substation to the shaft at Eltham. At its peak, it dug around 60 metres of tunnel in 24 hours and ran seven days a week.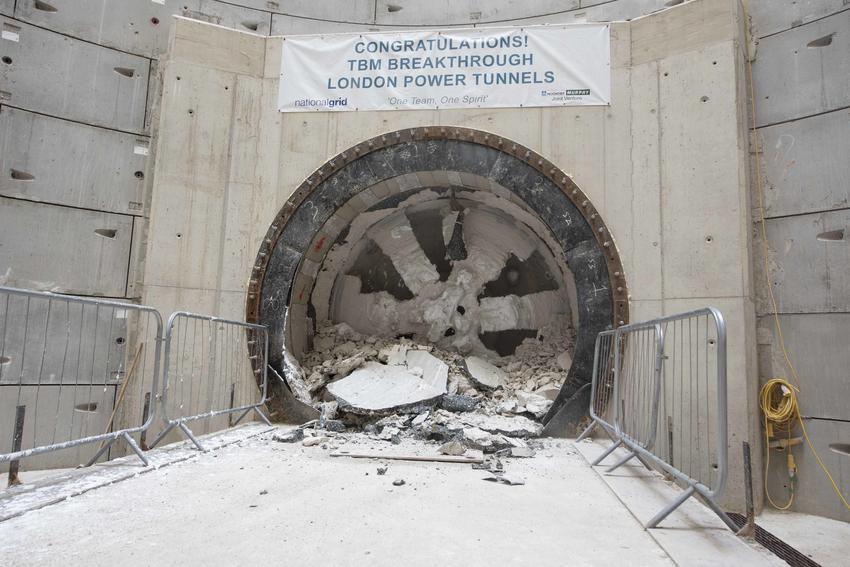 For most of the last year there have been four TBMs running simultaneously, each requiring daily manual monitoring by GEO-instruments survey teams. The progress and monitoring data for all TBMs is collected and displayed using specifically designed features within GEO-Instruments' monitoring platform QuickView.
Once complete, the LPT tunnel drives will form a chain of new tunnels running east to west from Crayford to Wimbledon via Eltham, Kidbrooke, New Cross and Kings Avenue.
Several GEO-Instruments survey teams are continuing to monitor the remaining drives, conducting precise levelling surveys on the roads and assets above, in front of, and behind the current locations of the TBMs.
In addition to daily levelling surveys throughout the TBM paths, various assets along the tunnel routes require specialised monitoring, including third party crossings owned by London Underground, Network Rail, DLR, and UK Power Networks. 
In some cases, these require high frequency, 24-hour data collection and reporting, generated automatically in QuickView.
In specific areas, where a TBM path passes under railway assets, ShapeArrays, Tiltmeters and Prisms measured by Automated Total Stations have been installed onto the running rails and sleepers of the tracks to provide more detailed information on any potential movement.
Other examples of automated applications include monitoring of a pre-existing UK Power Networks' tunnel using Optical Displacement Sensors and Hydrostatic Levelling Cell (HLC) monitoring of a newly constructed shaft at Bengeworth Road.
Regular track geometry surveys on rail assets are also undertaken manually by nightshift teams.
Taha Azab and Mindaugas Tiskus were the key GEO-Instruments team members responsible for the daily monitoring of the Hurst-Eltham tunnel drive.
The TBM from the recently completed drive is being moved from Eltham and reused to carry out the fifth and final tunnel drive between Hurst and Crayford.
The three other TBMs are progressing steadily and the Kings Avenue to Wimbledon drive is expected to finish in next few weeks.
Find out more about GEO-Instruments' role on the LPT project.